Warring business fraternities the Alphas and the Betas are on the hunt…and their targets happen to be roommates. Alpha President Todd and Beta President Lydia are left with the PR mess.
|
Synopsis: In a game of water gun warfare, ice queen Lydia is pitted against her popular archnemesis Todd Jenkins. As Presidents of opposing business fraternities, Todd and Lydia are natural enemies — but a growing attraction between them threatens to complicate their goals in the game.
Assassins is an all-consuming, 24-7 college water gun game that brings out your inner child, your inner killer, your inner paranoid-freak… and it gets you really wet.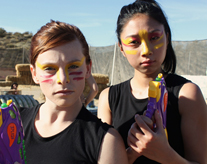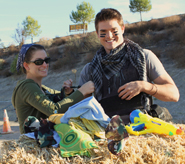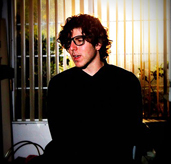 |

LYDIA FARREL, Beta President, Assassins specialty: the kill
Lydia has a freakish ability to win any competition she enters, but when it comes to winning over people, Lydia is at a big fat zero.
TODD JENKINS, Alpha President, Assassins specialty: alliances
Everyone likes Todd Jenkins, and Todd gets along with everyone – except Lydia Farrel.
WILLIE LIGHTMAN a.k.a. Agent IronWill, Assassins specialty: all-around expert
Willie is an expert on Assassins strategy, but watergun warfare takes a toll on a man. He has seen things.
KAT CHANG, Beta, Assassins specialty: stalking
You could call her emo, but Kat prefers "existential bitch."
LUDO de ROSARIO, Alpha, Assassins specialty: sharp-shooting
Ludo is Todd's right hand man. He hits on anything that moves, and a few things that don't.
KESTER CUMMINGS, Alpha, Assassins Specialty: water-refilling
The only person Kester truly fears is Lydia Farrel, who is half his size.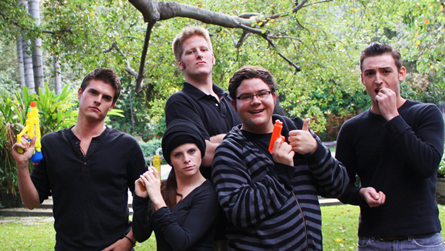 |

CAST:

Kristen DellaPace as Lydia
Corey Krueger as Todd
Robert George as Ludo
Tracy S. Lee as Kat
Christopher Greenwood as Kester
Michael James as Dawson
Emma Szumilas as Snoring Girl
Alissa Anderegg as Sleeping Angel
Anastasia Washington as Susie
Shirley Burns as Librarian
Abigail Mittel as Kitty Bon
Orson Chaplin as Max Kay
Macleish Day as Maclaren
Sebashtin Alain as Dan Wilder
Arthur De Larroche Diennet as Willie Lightman/Agent Ironwill
CREW:

Created & Written by Krista Suh
Directed by Barbara Stepansky
Executive Producers – Erika Cervantes, Emily McGregor
Produced by Marcey Lynn Frutchey, Andres Rodriguez Franco
Director of Photography – Aymae Sulick
Chief Lighting Technician – Henry Dhuy
1st Assistant Camera – Jarrett Sexton, Christopher Pritzlaff
Sound Recordist – Janna R. Lopez Räven, Sean Oakley
Art Director – Nikki Rudloff
Hair and Make-Up – Jean Melsheimer
Costume Designer – Jennifer Raatz
Dolly Grip – Antonio Aguirre
Edited by Zachary Anderson
Post Production Sound by Sean Oakley
Music by Dana Niu
Additional Effects Editing by Nathan Whitcomb
Title Sequence and Graphics by Marta Topolska
Color by Yuki Noguchi
Production Assistants – Aric Abraham, Taylor Beumel, Aaron Collins, Valentin Duran, Shea Leary
Extras – Aric Abraham, Antonio Aguirre, Erika Cervantes, Linda Chavez, Margarita Chavez, David Garcia, Shea Leary, Vince Major, Emily McGregor, Ollin Morales, Luis Navarro, Jennifer Raatz, Phil Snyder, Barbara Stepansky, Krista Suh
SONGS:
"Porno"
Written and Performed by Heather Schmidt
"Girlfriend"
Written by David Crocco & Cela Scott
Performed by Icky's Ego
"Ike's Anthem"
Written by Matt Van Winkle
Performed by Matt Van Winkle & Math and Science
"Make It Happen"
Written and Performed by Andrew Wang (Allurre)
"Never Do You Wrong"
Written by Allurre for www.luxlivinonline.com
Performed by Allurre featuring Vvienna
"Ticking Off (Instrumental)"
Written and Performed by Mike Saenz
"Yet Another One More Time"
Written by Charles Lindo
Performed by The American Professionals
"Easy to Please"
Written and Performed by Vvienna www.vvienna.com
Beat produced by Grade A for GradeAsounds.com
"Sorry"
Written by Paulina Logan and Gilli Moon
Performed by Paulina Logan
"The Specialist (Instrumental)"
Written by Charles Lindo
Performed by The American Professionals
SPECIAL THANKS to:

AFI, Kelly Dorsey, Cal State LA, Kristiina Hackel, Jim and Leisha Anderegg, Erika Cervantes, Luis Navarro, Linda Chavez, Jesse Morales, Antonio Morales
Boyd Tom Davis
Next Chapter Books www.nextchapterbooks.com
Mike and April Schwartz
Jason Pascual
Paintball USA www.paintballusa.org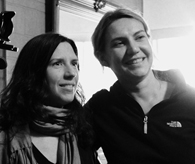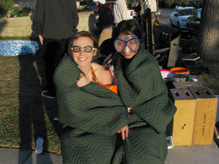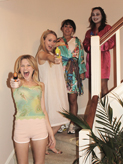 AROUND THE INTERWEBS