On Parks and Rec, we all know that Pawnee City Council is a stepping stone to Leslie Knope's true ambition – the presidency. Leslie  has always stated that her lifelong dream is to become President of the United States, so who would be in her Cabinet? Ever-loyal Leslie would find roles for all her Parks Department buddies. Yes, even Jerry.
Ron Swanson – Vice President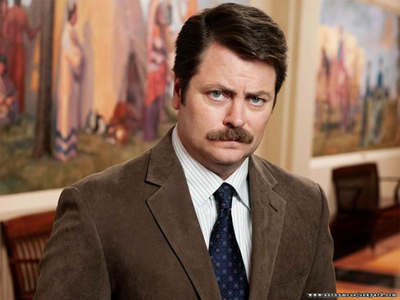 Source: NBC.com
After initially refusing to participate in Leslie's Cabinet due to his staunch Libertarian opposition to big government, Ron reconsiders when he realizes V.P. is the most ineffectual position of all-time!

First Order of Business: Go on a hunting trip, slaughter some breakfast, and take a long nap in his office. He also unintentionally inspires a Renaissance of the Moustache across the nation.
Ben Wyatt – Secretary of State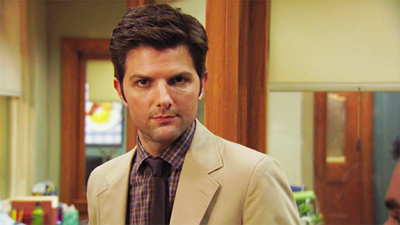 Source: NBC.com

Ben doesn't know whether to take it as a compliment or not when Leslie appoints him Secretary of State, and calls him "my Hillary." But it means Leslie holds him in highest regard by assigning him this important position, and wants him to be more than just First Husband. After accidentally inciting a war between Paraguay and Sweden, Sec. Wyatt resolves the matter by giving Paraguayans a gift of Swedish meatballs and Ikea furniture (that he assembles for them!), and for the Swedish, two of Paraguay's major exports: pharmaceuticals and edible oils.

First Order of Business: Unite world leaders in a Game of Thrones marathon that allows them to see the folly of their scheming, political ways, and to enjoy the gratuitous sex!
Jerry Gergich – Secretary of the Interior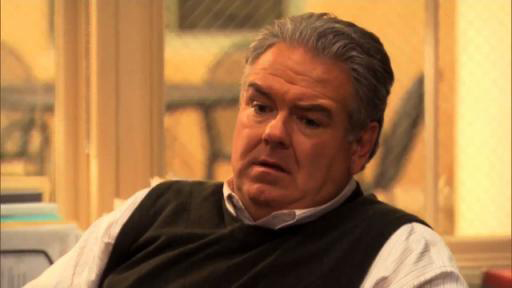 Source: NBC.com

After all the jokes about Jerry putting too much food into his Interior, Jerry soon realizes that his job is not too different from working at the Parks department in Pawnee. Though he continues to be both the Schlemiel and Shlimazel of the Cabinet, Jerry doesn't mind because he now has his own office. Ultimate power! Newly emboldened, Jerry finally starts going by Garry again, (his real name).

First Order of Business: Thank President Knope by painting presidential portraits of her with the body of a unicorn, and installing them around the White House.
Tom Haverford – Secretary of Commerce
Source: NBC.com

Despite his epic fail as an entertainment entrepreneur, serial optimist Knope appoints Tom Haverford as Sec of Commerce. Tom's goal becomes to make the Commerce department sexy again (was it ever sexy?) by installing a hot tub in the office, appointing Jean-Ralphio as his second-in-command, and running DJ Roomba 24/7.

First Order of Business: Throw a baller party, obviously!
Ann Perkins – Secretary of Health & Human Services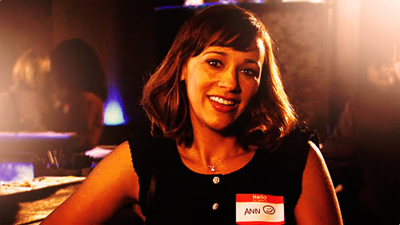 Source: NBC.com

An ever-passionate advocate for public health, Ann mounts a nation-wide crusade to educate the public about the dangers of putting your mouth on a water fountain.

First Order of Business: Tackle the childhood obesity crisis by putting trampolines in every classroom. After running through the entire departmental budget in a week due to trampoline expenses, Ann was left helpless during an outbreak of a new flu strain called "ferret fever."
Chris Traeger – Secretary of Energy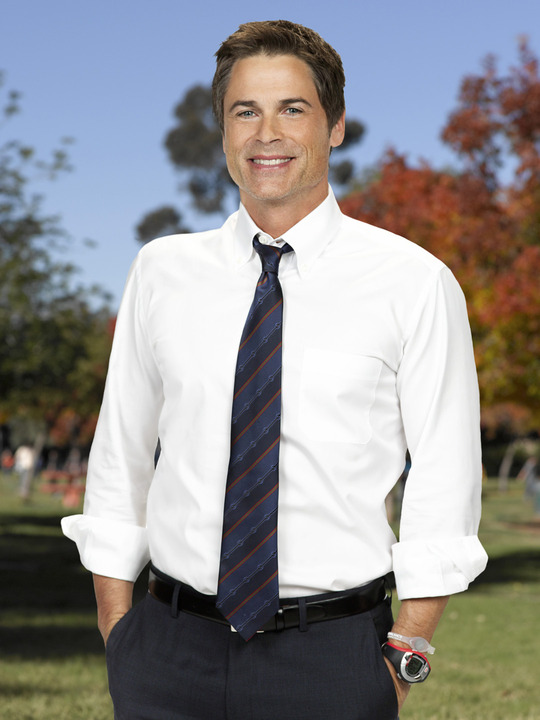 Source: NBC.com
After losing out on the Sec of Health position to Ann (his plan was to make the entire nation vegan, and as a homegrown Pawneean and whipped cream addict, Leslie could never abide that) Chris settled for the Sec of Energy position, because if there's anything Chris has in spades, it's energy.

First Order of Business: Install a giant hamster wheel in the White House to power all its electricity – by running on it himself.
April Ludgate & Andy Dwyer – Joint Secretaries of Homeland Security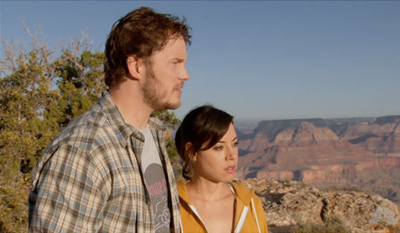 Source: NBC.com

Given April's penchant for torture, she and Andy have this whole good cop, bad cop thing going that makes for speedy interrogations. Terrorists return to their home countries, quivering in fear at April, and Sec. Wyatt enlists her help in dealing with infamous international dictators, who immediately surrender, stating only, "She's scary."

First Order of Business: Inspire prisoners with Andy's rousing rendition of "5,000 Candles in the Wind," after which April whips them into submission.
Leslie Knope – President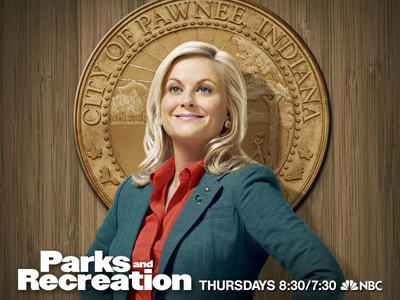 Source: NBC.com

Leslie approaches the presidency as she does everything – with a ridiculous amount of zeal. After proudly decorating the Oval Office with portraits of her heroes, Hillary Rodham Clinton, Madeleine Albright, Condoleezza Rice, Janet Reno, Nancy Pelosi, and Larry Bird, Leslie rolls up her sleeves and invites all of Congress over for waffles. Feeling guilty about abandoning Pawnee, she enacts several measures to raise the town's profile in her absence, including having it officially branded "Pawnee: The Paris of America."
First Order of Business: Unable to decide on a "First" Order, Leslie decides to tackle all her goals during her first week of the presidency. As outlined in the episode "Campaign Ad":
· More dog parks
· Senior citizens rights
· Safe streets
· Safe sidewalks
· Better schools
· Lower taxes
· Better parks
· Better business climate
· Better Better Business Bureau
· Cleaner streets
· Improve greenways
· More snow plows
· Protecting Pawneeans
· Improving tourism
· More trash cans
· Energy-efficient street lights
· Westside Detoxification and Revitalization Project
· Repaving Grand Avenue
· More teachers
· Fewer libraries
· Improve intergovernmental agency communication
· Clean-up Barefoot Lake
· Passing Pawnee Jobs Bill P-129.4
· Playgrounds in every park
· Playgrounds in every schoolyard
· Playgrounds in ever residential block
· Clean energy
· One police officer for every 5 citizens
· One park ranger for every 10,000 raccoons
· Resodding Hilltop Cemetery
· Start talking to Cuba again
· Emergency Evacuation Drills
· Plow For Charity
· Forming an Ad Hoc Sub-Committee Oversight Committee
· Challenging the norm
· Pawnee Corn Subsidies
· Finally Passing PR-61, formally recognizing South Korea
· Official peace treaty with the Wamapoke Tribe
· Four-way stops at every intersection
· Unionizing ice cream trucks
· Get Europe out of debt
· Free trade with Illinois
· Enact RRP – Raccoon Relocation Project
· Pawnee Community College tuition in exchange for 4 years of public service
· Doubling Pawnee Hospital's emergency room nurse staff
· Legalize Korean
· Lower the obesity level
· Stop global terrorism
· Re-open the toucan exhibit at Pawnee Zoo
· Find Gabe the Toucan
· More community gardens
· Ordinance 11F: To Re-pave City Sidewalks
· Budget Reform
· Updated Technologies For Local Schools
· Better retirement benefits for city employees
· Edward Phillips Senior Center Remodeling
· Speed bumps in front of elementary schools
· Unemployment benefits
· Re-instating the Main St. Farmers Market
· No turtles as pets
· New uniforms for youth sports programs
· Free Public Wi-Fi
· Updated childcare facilities
· Shutting down the Child Left Behind program
· Handicap parking placards for the obese
· FREE PARKING EVERYWHERE
· Cleaner drinking water
· Regulate heights of trampolines
· Memorial for those lost in the trampoline "incident"
· Control the floods
· Funding for public art commission
· Fencing in correctional facilities
· New police patrol cars
· Funding overtime hours for police
· Rebuilding the PTA
· Prosecuting former PTA president Linda Tritle
· Profitable government organizations
· Shutting down underground shooting ranges
· Making sure city contracts employ local workers
· Providing more economic development grants and micro-loans to small businesses
· Foster partnerships with sister cities
· More buses to speed up morning commutes
· More streets to accommodate additional busses
· Require all city employees check and respond to email
· Working sewers
· More parades
· Grants for scientists to discover new forms of energy
· Leave a lasting impression on all visitors
· Challenge the norm
· Finish the statue of Burt Bacharach
· No more conflict diamonds
· Bulletproof glass everywhere
· Free cookies at every street corner
· One school for every student
· Require flattering mirrors in public restrooms
· Develop a municipal composting operation
· Enforce existing speeding and noise ordinances
· Upgrade existing parks
· Create an ant-graffiti, youth outreach program
· Free cake when it's your birthday
· Reevaluate NAFTA
· Rickshaw Wednesdays
· Making it illegal to refuse a hug
· Make downtown more people-friendly
· Sell candy in government buildings to pay down the debt
· Get Pawnee a licensed pharmacy
· Better screening processes at local adoption agencies
· Finding homes for the adopted children of Day Labor Corp.
· Prop 6A: To Recognize All Five Food Groups
· Replacing all glass with plastic at Pawnee Psychiatric Clinic
· Curfew for minors at The Pawnee Mall
· Stop paying Sweetums the so-called "thank you for being here" tax
· Mini-golf renovations
· Subsidizing educational and eco-friendly businesses
· Removing Zorp from all written laws
· Reducing Federal Government Experiments in town to 10 per year
· Ordinance 8R: A Ghost Cannot Own/Inherit A Farm

AROUND THE INTERWEBS