6. Periods
Getting your period sucks already, let alone getting it when there are millions of bloodthirsty zombies after your juicy human ass. Bleeding monthly surely makes you more of a target, right? Not to mention the limited access you'll have to feminine hygiene products. Food and shelter are scarce enough, let alone sanitary napkins, and you can't afford to ruin the ONE OUTFIT you've been wearing for months since the zombie apocalypse happened.
So this is something never addressed in The Walking Dead. Do Andrea and Michonne have to kick it old school, and sit in a barn on a bale of hay until their lady-cycle passes and they can get back to blowing zombies' heads off?
5. Sense of time is f**ked
In The Walking Dead comics, Andrea is kind of a badass — she retains the most sanity despite the various tortures our heroes go through, and is also the sharpest shooter; her sniper skills saving the gang from many a roamer. So why is everyone always hatin' on her calendar?
Early on, Andrea starts keeping a calendar in an apparently feeble attempt to retain some of her lost humanity. But it's brought up no less than 3-4 times how incredibly inaccurate her calendar must be, all to the tune of "Well, Andrea's calendar is spotty at best, but we think it's Christmas today…"
Why is everyone always telling Andrea that her calendar sucks? How 'bout someone else without a monthly cycle gives keeping time a try? Thought so. Shut the f**k up, man-types.
4. Men gone crazy
Speaking of man-types, the men have all gone crazy post-zombie-apocalypse! OK, OK, so everyone has gone kinda crazy. Watching all your loved ones get munched on before your eyes is pretty traumatic, so you're PTSDoomed.
But if you're Lori, and your husband Rick runs off to chase some stupid helicopter he saw in the distance and comes back missing a hand, all while you're stuck lying on your pregnant ass trying not to vomit all over your one remaining outfit, you'd be pretty freakin' grouchy too.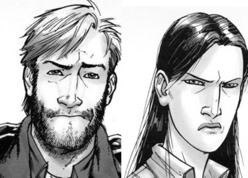 3. Pregnancy fears
Speaking of pregnancy…um, hello, prophylactics are a lot harder to come by in a zombie apocalypse. And you definitely don't want to bring a baby into this hell-on-Earth scenario. Screw your duty to proliferate the human race, how can you run with a baby in your arms? So pregnancy would be a major bummer, and the kind of burden that falls heavily on the woman — seriously, that belly is too heavy to run with.
What do you do about birth control? You can't exactly loot a Walmart every freakin' day. Your birth control is bound to run out after the first month, and considering Dr. Zachary is now Dr. Zombie, your hopes of filling that prescription are pretty slim. Yet sex is one of the few joys that the undead can't take away from you, so your only protection is the pull-out method, and we all know how effective that is!
2. Giving birth
So you went and got yourself knocked up the night you and your post-apocalyptic honey shared that, "the world may be ending but we can still f**k like the humans we are" sex. Well, shit. Now the unfortunate consequence of all that unbridled self-pity turned passion is a baby. First, the natural questions. Depending on if you've determined whether the cause of your zombie apocalypse is an airborne virus, you gotta wonder if your spawn will be born saying "Gruhhh" and craving brains.
But even if your miracle baby is born all human and cute-like, there's still that giving birth part. Holy crap, how are you supposed to give birth, with no hospital, no doctors, and no pain-killers? What, you say humans have been doing it since the olden days? LIES! OK, it's possible, but you're still going to be in searing pain surrounded only by your half-crazy companions.
So if you're Robert Kirkman and you're writing this scene, what do you do? Naturally, you do what any man would do when a lady's giving birth and leave the room. Yes, this scene happened in The Walking Dead, issue #39, and instead of seeing it, we cut to the man-types fixing the generator. Fixing the generator, really? Well, at least they're making themselves useful, I guess.
1. Your best friend will go nuts and want to marry you
Periods, crazy men, giving birth and all that aside, the biggest concern you should have as a woman in a zombie apocalypse is the fear that your best friend will go crazy and want to marry you and your husband. Yes, I said you AND your husband. That shit happens.
I present, Exhibit A: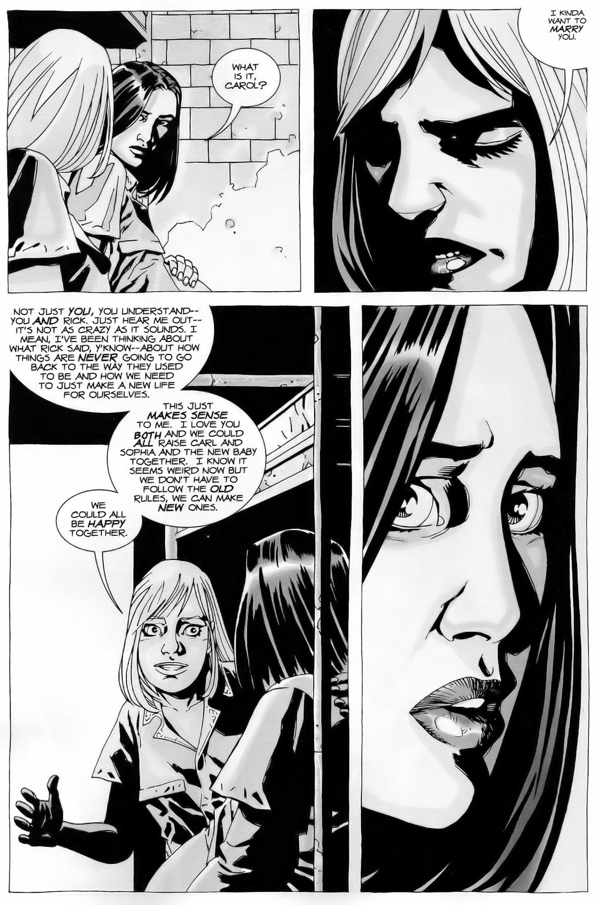 Because there's nothing worse than having to share your one-handed husband with some other bitch.

****
However, purses can be pretty handy in a Z-Poc!
AROUND THE INTERWEBS